Happy Faces is a voluntary managed preschool and registered charity which is situated in a residential area of Haverhill Suffolk. We promote a relaxed and happy atmosphere focusing on 'Learning through Play' in a way that caters for each child as an individual. We offer a safe and stimulating environment, generous care and attention to each child in our care and a personal key person who makes sure that each child receives the best care possible.
Outstanding Care and education for young children between the ages of 2yrs and 4 yrs.
Open 38 weeks each year, during term time.
All 3/4 yr olds receive 15 hours funded childcare.
We accept 2 yr old funding.
We accept the extended funding (up to 30 hours)
Open five days each week between 9.15am – 3.30pm.
am or pm sessions available or a full day (9.15 – 3.30) including lunch.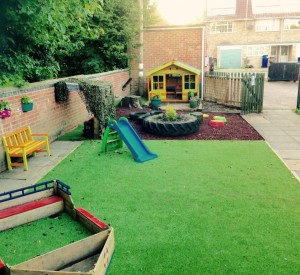 We have a safe and enclosed garden to play in as well as secure fields to run around in, right next to the Preschool! We make use of the large open space available to us, as well as the trees to explore!
This is a great facility to have on our doorstep and really enables us to provide space for children to run, skip, jump, play and enjoy!
Experienced and highly qualified staff
Large and roomy indoor play space
Wide range of stimulating play equipment
Strong emphasis on outdoor learning
Why not give us a ring on 01440 762 515 or pop in and visit us in action – we'd love to meet you!